Penetrating thoracic wound with cardiac trauma
01 Dec 2019
McGrath, C., Smith, C., Meakin, L. B.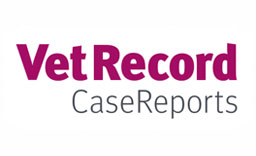 A young male whippet presented in hypovolaemic shock with a penetrating thoracic wound. Point-of-care ultrasound documented a moderate volume of pleural effusion and a hyperechoic mass adjacent to the right ventricle suspected to be a haematoma. Thoracic CT confirmed these findings. Following stabilisation, the patient proceeded to theatre and a median sternotomy was performed. A large haematoma was attached to the ventral surface of the right ventricle. The haematoma was removed, and a partial thickness laceration was visualised on the ventral surface of the right ventricular free wall. The defect was repaired with pledgeted mattress sutures. A chest drain was placed and the thorax closed routinely. The patient recovered without complication. This case report describes the importance of considering internal trauma, including cardiac trauma, in patients presenting with a penetrating thoracic injury. It also highlights the importance of emergency stabilisation and utility of point-of-care ultrasonography in these patients.
You need to be a BVA member to continue reading this journals Login or join the BVA today.
LOGIN
JOIN US TODAY