Sebaceous naevus in a dama gazelle (Nanger dama mhorr)
08 Dec 2019
Ravera, I., Ramis, A., Carbonell, M. D., Serra, C. I.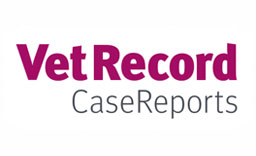 Since 2006 the Dama gazelle has been considered a critically endangered species by the IUCN. At present, the captive population is distributed in several zoos around the world. Bioparc (Valencia, Spain) has a captive population of 9 individuals. A two-month-old male dama gazelle (<i>Nanger dama mhorr</i>) living at the Bioparc facilities, developed an annular verrucous hyperpigmented fairly alopecic cutaneous plaque on the left lateral aspect of the thorax. Haematoxylin and eosin study revealed an exophytic papillary epidermal hyperplasia with mild orthokeratotic hyperkeratosis. In the subjacent dermis, a glandular well-differentiated epithelial tissue proliferation was observed. At the periphery, significant immature reserve cells were identified, and in some central areas of the proliferating glands, an amorphous eosinophilic material corresponding to cystic degeneration was observed. Resection margins were clear, and no signs of malignancy were observed. Diagnosis was consistent with sebaceous naevus. After a 12-month follow-up period, no relapse was noticed.
You need to be a BVA member to continue reading this journals Login or join the BVA today.
LOGIN
JOIN US TODAY