Suspected anaphylaxis after intravenous administration of cefuroxime (Zinacef) in two dogs, with descriptions of arterial blood gas abnormalities over time
03 Dec 2019
Leigh, H., Harthardottir, H., Schöffmann, G., Panti, A.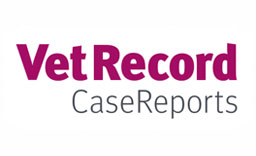 Two cases of suspected anaphylaxis occurred in the authors' hospital within two weeks of each other. The first, a six-year-and-four-month-old border collie, presented for thoracic wall resection. Once anaesthetised, 20 mg/kg of intravenous cefuroxime (Zinacef 75 mg/ml, GlaxoSmithKline UK) was administered slowly for prophylactic antibiosis. Ten minutes after administration was completed,desaturation occurred alongside tachycardia, hypotension and apnoea. Chest compliance was extremely poor, with minimal chest movement. Treatment included intermittent positive pressure ventilation, intravenous fluids, terbutaline, adrenaline and dexamethasone. The second case, a five-year-and-eight-month-old Lhasa apso, presented for elective orthopaedic surgery. Intravenous cefuroxime (Zinacef 75 mg/ml) was again administered slowly for prophylactic antibiosis; however, it is uncertain whether the patient received the full dose of 20 mg/kg. Mid-administration tachycardia, tachypnoea and hypotension occurred,alongside poor chest compliance. Cefuroxime administration was stopped, the fluid line disconnected and treatment with chlorphenamine given.
You need to be a BVA member to continue reading this journals Login or join the BVA today.
LOGIN
JOIN US TODAY