Abscessation associated with an intramuscular haemangiosarcoma in a dog
03 Feb 2020
Gasparini, M. K., Selmic, L. E., Cook, M., Brown, M., Wavreille, V. A.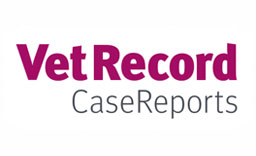 Haemangiosarcoma (HSA) is a neoplasm of the endothelial cells. Intramuscular HSA is an uncommon presentation of this endothelial cell neoplasm. This report describes an unusual case of an intramuscular HSA arising in the hindlimb of a dog with associated abscessation. Diagnosis of underlying HSA was complicated by associated infection and initial cytological evaluation showed only septic suppurative inflammation. However, due to the heterogeneously contrast enhancing appearance of the area on CT, underlying neoplasia was suspected. Definitive diagnosis of HSA could only be made following excision and histopathology of the affected muscle in addition to immunohistochemistical stains. This dog received multimodal treatment including surgery, radiation and chemotherapy, and despite developing metastatic lesions, was alive 12 months after presentation, at the time of manuscript writing. Deep abscessation can occur concurrently with neoplasia, and neoplasia should remain on the differential diagnosis list for deep abscesses of unknown aetiology.
You need to be a BVA member to continue reading this journals Login or join the BVA today.
LOGIN
JOIN US TODAY