Bilateral rostral temporomandibular luxation with bilateral coronoid fracture in a Welsh pony
19 Mar 2020
Luedke, L. K., Nixon, A. J., Whitty, J. A., Irby, N. L., Ducharme, N. G.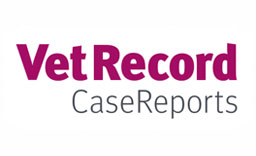 Temporomandibular joint (TMJ) luxation in the horse is a rare condition. There are few reports of unilateral luxation with successful reduction; bilateral luxation with concurrent bilateral coronoid fracture has not been reported. The diagnosis and closed reduction technique for rostral TMJ luxation are reported, along with the clinical outcome. A horse with an abnormally open positioned jaw presented for evaluation. Clinical exam showed a fixed open mouth, unable to be manually closed. Radiography showed multiple fractures associated with left and right TMJs. CT provided a more complete appraisal of the luxation and associated coronoid fracture orientation, as well as hyoid apparatus malposition (ie, temporohyoid subluxation). Closed reduction was achieved in this case using a fulcrum speculum between the molars, and a reduction device to forcibly appose the rostral mandible to the premaxilla with the patient anaesthetised. Functional mastication was a positive outcome; a partially phthisical, blind left eye persisted.
You need to be a BVA member to continue reading this journals Login or join the BVA today.
LOGIN
JOIN US TODAY