Canine cauda equina neuritis secondary to neospora
09 Feb 2020
Lye, G., Mathis, K., Hill, S., Hardy, L., Cattin, R.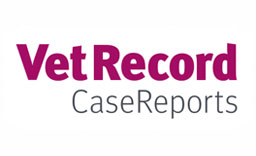 A five-year-old, female spayed, crossbreed dog was presented for lethargy, fever, hyporexia and right hindlimb lameness of two weeks' duration. Examination revealed an intermittent weightbearing right hindlimb lameness with delayed proprioceptive reflexes. When the right hindlimb was placed, weightbearing was through the dorsal pes. The other limbs were neurologically normal. The neurological deficits localised to L6–S2. CT and myelogram revealed focal nerve root enlargement with contrast enhancement of L7–S1 nerve roots. Neospora caninum neuritis was diagnosed by rising serum titres, along with a neutrophilic pleocytosis on cerebrospinal fluid. The dog showed clinical improvement with prednisone, clindamycin and trimethoprim/sulfadiazine but relapsed six months after cessation of treatment with similar presentation. The same treatment was initiated, and a positive response was seen again. There is only one other case of focal cauda equina neuritis secondary to Neospora reported in the literature and the response to treatment is not well documented.
You need to be a BVA member to continue reading this journals Login or join the BVA today.
LOGIN
JOIN US TODAY