Canine central nervous system neosporosis: clinical, laboratory and diagnostic imaging findings in six dogs
27 Feb 2020
Didiano, A., Monti, P., Taeymans, O., Cherubini, G. B.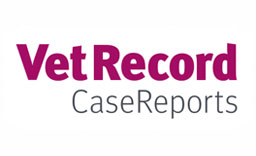 This report describes the clinical, neurological, laboratory and imaging findings in six dogs affected by CNS neosporosis and reviews previous publications. All dogs were born in England and never travelled outside the UK. Cerebellar and proprioceptive ataxia were the most common presenting neurological deficits. Markedly elevated creatine kinase in the serum was detected in four of the six dogs. Increased cerebrospinal fluid (CSF) protein concentration and mixed pleocytosis were present in five of the six dogs. Abnormal MRI findings were detected in five of the six dogs. The diagnosis was based on positive antibody titres on serum (1:800 or above) and positive PCR on CSF. All patients were treated with a combination of clindamycin and trimethoprim/sulfamethoxazole. The clinical signs improved in all six cases. One dog developed hypothyroidism and another one died due to liver disease of unknown causes, respectively six and eight months after initial presentation.
You need to be a BVA member to continue reading this journals Login or join the BVA today.
LOGIN
JOIN US TODAY