Cutaneous mastocytoma with eosinophilia and eosinophilic infiltration of the small intestine in an Arabian gelding
30 Mar 2020
Williams, N. J., van den Boom, R.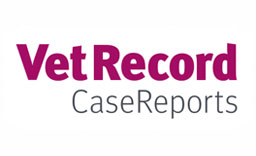 A 12-year-old Arabian gelding presented to the University of Adelaide for investigation of a firm subcutaneous mass, just proximal to the digital flexor tendon sheath of the right forelimb, that had appeared two weeks prior. The skin overlying the mass was intact. Fine needle aspiration identified eosinophilic and mastocytic infiltrates. One week later, the gelding re-presented for persistent colic signs. Blood examination showed eosinophilia, and on palpation per rectum the mesenteric root was very firm and enlarged and a number of small intestinal loops had subjectively thickened walls. Colic signs were unabated by the administration of pain relief. The owner declined surgery and the gelding was euthanased. Postmortem examination confirmed a diagnosis of cutaneous mastocytoma and revealed eosinophilic infiltration of the small intestine.
You need to be a BVA member to continue reading this journals Login or join the BVA today.
LOGIN
JOIN US TODAY