Growth stunted in half a litter of puppies due to intestinal parasitism
08 Mar 2020
Frada, M., Machado, J., Coutinho, T., Lopes, A. P., Ginja, M. M. D.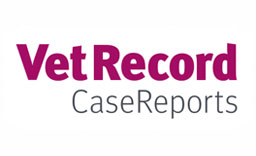 Four puppies of Estrela mountain dog breed, out of a litter of nine, eight weeks of age, and with poor body condition, poor appetite, pica (geophagia) and stunted growth from the fifth week of age, were attended at the Veterinary Teaching Hospital. On physical examination, it was concluded that the puppies were severely underweight. Rectal examination showed dark faeces. Nevertheless, the puppies were alert, responsive and interested in wet food. Haematological, biochemical, faecal, radiographic, ultrasonographic and CT studies were performed. The main abnormalities detected were mild anaemia and intestinal parasitism caused by Giardia species and coccidia. The puppies started to be fed with wet food and were treated with metronidazole, sulfamethoxazole and trimethoprim for intestinal parasitism. The puppies regained their appetite and growth, and their body condition gradually improved. At 12 weeks of age the puppies were completely healthy, without evidence of sequela, and living with their new owners.
You need to be a BVA member to continue reading this journals Login or join the BVA today.
LOGIN
JOIN US TODAY