Intracranial sewing needle in a dog
15 Mar 2020
Caraty, J., di Virgilio, F., Belluzzi, E., Santos, M., Bongartz, A.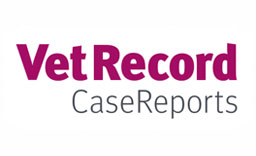 The objective of this clinical case study is to describe the first clinical case of an intracranial sewing needle identified in veterinary medicine and to describe the second case of intracranial foreign body secondary to pharyngeal perforation. A one-year-old Maltese dog with acute haemorrhagical vomiting and seizure was evaluated. A cerebral CT scan revealed the presence of a sewing needle inserted into the nasopharynx, which perforated the caudal cranial fossa through the brainstem, cerebellum and caudal part of the forebrain. An emergency surgery was performed, the needle was removed and the dog recovered well during the following 72 hours. One month after the surgery, the dog was still fine. This clinical case reinforces the possibility of cranial perforation after sharp foreign body ingestion. Intracranial foreign body should be part of the differential diagnosis in dogs when acute digestive signs are associated with acute neurological complications.
You need to be a BVA member to continue reading this journals Login or join the BVA today.
LOGIN
JOIN US TODAY