Malignant trigeminal nerve Schwannoma diagnosed via biopsy of the infraorbital nerve in a dog
15 Mar 2020
Green, M., Pumarola, M., Targett, M., vanLelyveld, S., Lowrie, M.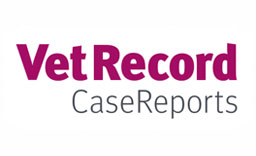 A 12-year old, female neutered English Pointer presented with right-sided temporalis muscle atrophy and facial irritation over 2 weeks. Neurolocalisation was consistent with a right trigeminal neuropathy. MRI revealed a severely enlarged trigeminal nerve with involvement of the infraorbital nerve, which was palpable as a firm swelling over the maxilla. Incisional biopsy of the infraorbital nerve was performed and histopathological diagnosis was a malignant Schwannoma. Palliative chemotherapy was initiated. Two months following diagnosis the owner reported that the dog was doing well. This is the first report of a trigeminal nerve sheath tumour diagnosed via biopsy of the infraorbital nerve in a dog. Consideration should be given to evaluating the infraorbital nerve on clinical examination as well as MRI in cases of trigeminal neuropathy.
You need to be a BVA member to continue reading this journals Login or join the BVA today.
LOGIN
JOIN US TODAY