Mesothelioma in two sheep with pericardial effusion and ascites
03 Feb 2020
Fletcher, N., Brena, C., Carson, A., Wessels, M., Floyd, T.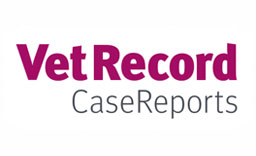 Mesotheliomas are rare tumours in domestic animals. These tumours have a range of clinical presentations, and a range of gross and microscopic features can be present. We report mesotheliomas in two sheep submitted to Animal and Plant Health Agency's diagnostic pathology service with diverse clinical presentations. The first case was a 2-year-old ewe with a history of sudden death that had a nodular mass in the wall of the right auricle and marked pericardial effusion and ascites. The second case was a 3-year-old ewe with a history of recumbency which had a papillary mass in the peritoneal cavity and marked ascites. A diagnosis of mesothelioma in both cases was confirmed by immunohistochemistry for cytokeratin and vimentin. These cases highlight the diverse presenting signs that can be present with mesothelioma, and this tumour should be considered as a differential diagnosis in sheep with peritoneal, pericardial or pleural effusion at gross postmortem.
You need to be a BVA member to continue reading this journals Login or join the BVA today.
LOGIN
JOIN US TODAY