Severe nutritional deficiencies and osteopenia in a dog fed a homemade raw diet
27 Feb 2020
Hall, G., Breheny, C., Khan, Z., Schwarz, T., Mellanby, R. J.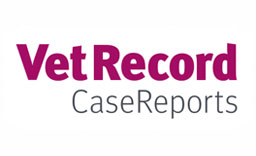 A seven-month-old male entire Bulldog presented for a three-week history of progressive lethargy, exercise intolerance, hindlimb paresis, muscle atrophy and hyperaesthesia. The dog had initially been raised on the bitch's milk before maternal illness resulted in him transitioning onto milk replacer. He was weaned onto commercial puppy food until four months of age before being transitioned onto a homecooked diet. This diet comprised of raw meat, collected weekly from a local abattoir, homecooked cereals and vegetables. The patient was oxygen-dependent on presentation, requiring 40 per cent inspired oxygen concentration to maintain normoxaemia. Investigations revealed marked osteopenia with concurrent severe hypovitaminosis D, hypocalcaemia and hyperparathyroidism; hypovitaminosis A; hypothyroidism and concurrent severe pneumonia. Despite intensive medical care, nutritional interventions and escalating oxygen therapy, the dog was euthanased due to a deterioration in respiratory function. This case report highlights the severe clinical complications associated with the consumption of a nutritionally incomplete diet.
You need to be a BVA member to continue reading this journals Login or join the BVA today.
LOGIN
JOIN US TODAY