Surgical removal of a thyroglossal duct cyst in a geriatric dog
28 Jan 2020
Markou, M., Anatolitou, A.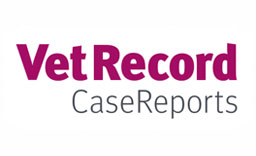 A 12-year-old, body condition score (BCS) 9, female, Poodle mix dog was presented for coughing, gasping sounds and exercise intolerance. The symptoms started 2 months prior to the presentation. Clinical findings revealed a large, fluid-filled mass on the ventral aspect of the neck. Ultrasound examination identified a large anechoic cyst. Thoracic radiographs revealed signs of bronchial pattern and right-sided cardiomegaly, as a consequence of chronic bronchitis. There was no evidence of metastatic disease. Serum concentrations of T4, fT4 and thyroid-stimulating hormone (TSH) were within normal limits. The cyst was removed via marginal excision. The histopathological findings were suggestive of thyroglossal duct cyst. A thyroglossal duct tract was not identified. Apart from the formation of a temporary seroma, there were no other postsurgical complications. There was no recurrence of the cyst 3 months postoperatively. To the authors' knowledge, this is a rare case of thyroglossal duct cyst in a geriatric dog.
You need to be a BVA member to continue reading this journals Login or join the BVA today.
LOGIN
JOIN US TODAY