Unusual clinical presentation of dystrophin-deficient feline muscular dystrophy in the UK
16 Feb 2020
Eiras-Diaz, A., Paciello, O., Waine, K., Baiker, K., Housley, D.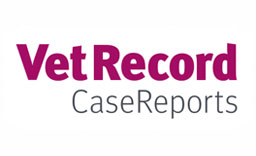 An eight-month-old, male, neutered, domestic short hair cat was presented for further investigation of white granuloma-like lesions on the tongue and recent onset regurgitation. The owner reported that the cat had an 'unusual' gait. Moderate increases in alanine aminotransferase, aspartate aminostransferase and markedly elevated creatine kinase were present. Thoracic radiographs revealed moderate-to-severe oesophageal impaction, cardiomegaly and an irregular appearance of the diaphragm. Endoscopy revealed a distended oesophagus with accumulation of ingesta. Difficulties were encountered when passing the endoscope through the cardia. Histology of the white granuloma-like lesions were pathognomonic of calcinosis circumscripta. These features raised the suspicion of feline muscular dystrophy. Muscle biopsies and electromyography were declined, and the patient was euthanased. Postmortem examination, histopathology and immunohistochemistry were suggestive of dystrophin-deficient muscular dystrophy (DDMD). This case emphasises the importance of including DDMD as a differential diagnosis for regurgitation and lingual calcinosis circumscripta in cats.
You need to be a BVA member to continue reading this journals Login or join the BVA today.
LOGIN
JOIN US TODAY