Vestibular dysfunction due to thalamic metastasis of a corticotropic carcinoma in a dog
09 Mar 2020
Soler Arias, E. A., Trigo, R. H., Gomez Alvarez, C. M., Castillo, V. A.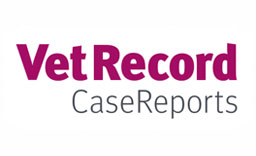 Metastatic pituitary carcinoma and central vestibular syndrome originating in the thalamus are not common disorders in dogs. An 11-year-old Maltese dog with pituitary-dependent hypercortisolism presented signs of central vestibular dysfunction after trilostane treatment. Interestingly, the patient showed remission of vestibular signs after drug withdrawal, but two weeks later, with a new administration of trilostane, these signs reappeared after 48 hours. Postmortem, two neoplasms were found: one in the pituitary gland and the other in the thalamus, both with intense positivity for adrenocorticotropic hormone. Findings were conclusive of a functional corticotropic pituitary carcinoma with thalamic metastasis. Altogether, the vestibular dysfunction in this case was attributed to the effect of the mass in the thalamus, and the remission and reappearance of vestibular signs were associated with the level and the effect of cortisol, which depend on the trilostane therapy. Consequently, thalamic metastasis should be considered as a differential diagnosis in dogs with central vestibular dysfunction.
You need to be a BVA member to continue reading this journals Login or join the BVA today.
LOGIN
JOIN US TODAY