General anaesthesia of a black leopard (Panthera pardus) with alfaxalone, ketamine and isoflurane
12 Apr 2020
Jimenez, I. A., Militana, E. A., Martin-Flores, M.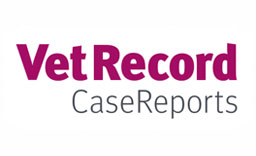 A one-year-old captive black leopard (Panthera pardus) was evaluated for chronic lethargy, behavioural abnormalities and vomiting. The leopard was immobilised with intramuscular alfaxalone (Alfaxan; 1.6 mg/kg) and ketamine (3.1 mg/kg) at doses similar to those used in domestic cats. General anaesthesia was induced with intravenous alfaxalone (1.6 mg/kg) and maintained with isoflurane. Imaging revealed hydrocephalus and a paresophageal hernia. The hernia was surgically corrected. During prolonged anaesthesia (5 hours and 40 minutes), this protocol produced smooth induction, reliable depth, successful deep extubation and smooth, rapid recovery, without major electrolyte abnormalities. This is the first reported use of alfaxalone in a leopard and Alfaxan in any large cat. Alfaxalone may be an alternative to alpha-2 adrenergic agonists in non-domestic felids and may decrease the risk of hyperkalemia associated with those agents. Alfaxalone may also be considered for patients with cardiac or neurological disease, to avoid or reduce the use of ketamine.
You need to be a BVA member to continue reading this journals Login or join the BVA today.
LOGIN
JOIN US TODAY