High mortality in a sheep flock caused by coinfection of louping ill virus and Anaplasma phagocytophilum
15 Apr 2020
Daniel, R., Hopkins, B. A. M., Rocchi, M. S., Wessels, M., Floyd, T.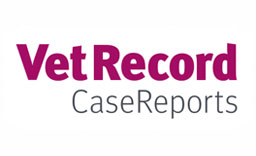 Fifty-three of a mixed flock of 180 one-year-old lambs (hoggs) and older, barren ewes (ewes that were non-pregnant or had not lambed that spring) died in May 2019 following introduction to 30 acres of unimproved hill pasture. The flock was moved onto this pasture in early May, and clinical signs and deaths were observed 14 days later. Clinical signs included dyspnoea, lethargy, and sternal and lateral recumbency; the majority were found dead. The flock was removed from the hill the day after the first deaths were discovered. Deaths continued for a further 14 days until a total of 53 animals had died. Three hoggs were submitted for postmortem examination to the Wales Veterinary Science Centre. Anaplasma phagocytophilum, the causal organism of tickborne fever, was detected by PCR testing. Coinfection with louping ill virus was also suspected and later confirmed. The laboratory findings are described, and the risk of these diseases to grazing sheep in upland areas is discussed, as well as the measures being taken to reduce the risk of infection.
You need to be a BVA member to continue reading this journals Login or join the BVA today.
LOGIN
JOIN US TODAY