Inadvertent catheterisation of the auditory tube during myringotomy in a dog
02 Jun 2020
Long, S., Plested, M. J., Mapletoft, E. K., Loeffler, A., Bond, R.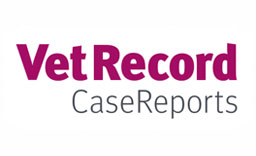 A four-year-old female neutered Cocker Spaniel with a two-year history of relapsing bilateral otitis underwent general anaesthesia and myringotomy for the management of otitis media. This had been previously diagnosed using CT and video-otoscopy six weeks earlier. Due to the thickened and convex nature of the tympanum, the myringotomy incision was made in the caudodorsal quadrant of the tympanum and not the caudoventral quadrant as intended. The catheter advanced freely for several centimetres and air was aspirated. CT confirmed that the catheter had passed through the auditory tube and into the nasopharynx. To the authors' knowledge, this is the first report of inadvertent auditory tube catheterisation during myringotomy in the dog. It highlights the importance of accurate catheter placement and the difficulties associated with this in thickened or bulging tympanic membranes.
You need to be a BVA member to continue reading this journals Login or join the BVA today.
LOGIN
JOIN US TODAY