Lynxacarus and Demodex infestation in a captive jaguar (Panthera onca) in La Democracia, Belize
23 Apr 2020
Jimenez, I. A., Odom, M. R., Childs-Sanford, S. E., Lucio-Forster, A., Bowman, D. D.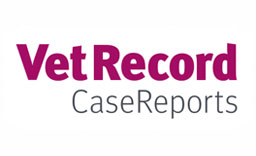 An 8.5-year-old female jaguar (Panthera onca) was presented for evaluation of hypersalivation and maxillary soft tissue swelling. On physical examination, the patient was thin and had multiple small areas of alopecia and excoriations throughout the hair coat along the trunk, tail, hocks, pinnae and bridge of the nose. A skin scraping of affected areas was collected; samples contained hairs with hair-clasping listrophorid mites consistent with the genus Lynxacarus. Otic cytology revealed elongated mites consistent with the genus Demodex. The jaguar was treated with subcutaneous ivermectin (0.2 mg/kg) and four months later was treated with one dose of topical Frontline Plus (10 mg/kg fipronil and 9 mg/kg S-methoprene). Six months from initial diagnosis, clinical resolution of alopecia and excoriations was evident, and samples from 11 locations did not reveal any ectoparasites. This is the first report of the recovery of mites of the genera Lynxacarus and Demodex from a jaguar.
You need to be a BVA member to continue reading this journals Login or join the BVA today.
LOGIN
JOIN US TODAY