Maisonneuve fracture in a cat: disruption of the tibiofibular ligament and proximal fibular fracture
08 Apr 2020
Piana, F., Langley-Hobbs, S. J.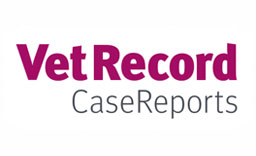 Complete tibiofibular ligament rupture leading to instability of the talocrural joint was diagnosed in a cat after a slow-speed car accident. Concomitant injuries included fracture of the proximal fibula and talocalcaneocentral luxation. In humans, an injury that includes a proximal fibular fracture and disruption of the tibiofibular ligament is described as a Maisonneuve fracture. Restoration of the tibiofibular ligament was achieved with a 1.5 mm positional screw, which also restored stability to the talocrural joint. A 2.0 mm screw was used to reduce the talocalcaneocentral luxation. No complications related to implants and healing process were registered at clinical follow-up after 8 weeks and on radiographs. A satisfactory return to function was documented long-term at 18 months postoperatively. From this clinical experience, the tibiofibular ligament appears to play an important role in maintaining stability to the lateral aspect of the talocrural joint and cats with proximal fibular fractures should be checked for concurrent tibiofibular ligament rupture as seen in the Maisonneuve fracture in humans.
You need to be a BVA member to continue reading this journals Login or join the BVA today.
LOGIN
JOIN US TODAY