Medical management of a unilateral obstructive ureterolith in a pet rabbit (Oryctolagus cuniculus)
09 Apr 2020
Keeble, E., Eatwell, K., Longo, M., Schwarz, T.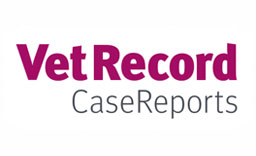 A 5-year-old neutered male French lop rabbit presented with a 6-hour history of stranguria and reduced faecal output. Routine haematology, serum biochemistry, urinalysis and diagnostic imaging were performed. Ultrasonography revealed left renal pelvis and ureter distension due to the presence of a proximal and distal calculus and marked heterogenous bladder sediment. A diagnosis of left hydronephrosis due to ureteral obstruction with a suspected underlying pyelonephritis and hypercalciuria was made. The rabbit was treated medically with intravenous fluid therapy, prokinetic drugs, analgesia, systemic antibiotics and nutritional support, as well as closely monitored by ultrasonographic examination. Three days later, clinical signs and urinary tract findings had resolved. Repeat imaging at 7 days post-treatment was normal. This is the first report of successful medical management of obstructive ureterolithiasis in a pet rabbit. The small ureteral diameter in rabbits and consequent surgical limitations make medical therapy with close serial ultrasonographic monitoring an alternative option to surgical intervention in select cases that are evaluated as stable. Surgical intervention, however, should always be considered in cases that do not respond to medical therapy.
You need to be a BVA member to continue reading this journals Login or join the BVA today.
LOGIN
JOIN US TODAY