Minimally invasive osteosynthesis of a distal humeral Salter-Harris type II fracture by percutaneous pinning
15 Apr 2020
Hartman, E. A., Perry, K. L., Dejardin, L. M.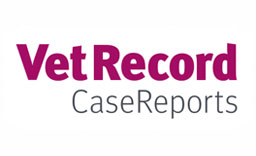 A 13.2-kg, skeletally immature German shepherd dog presented with acute onset non–weight-bearing right forelimb lameness. A mildly displaced, distal humeral Salter-Harris type II fracture was diagnosed using radiographs and CT scan which demonstrated a characteristic 'corner' sign. Closed reduction was achieved using ligamentotaxis techniques and stabilisation was performed via percutaneous pinning under fluoroscopic guidance. Physical examination and diagnostic imaging were repeated at 1 month postoperatively with telephone communication and Canine Brief Pain Inventory being completed 12 months postoperatively. Clinical union was documented radiographically 4 weeks postoperatively. Minimal lameness was noted clinically, reported to have resolved 2 weeks thereafter. Long-term outcome was excellent with both pain severity score and pain interference score being zero. This is the first detailed report of a distal humeral Salter-Harris type II fracture in the veterinary literature. Principles of minimally invasive osteosynthesis were applied to achieve closed reduction and stabilisation with excellent long-term clinical outcome.
You need to be a BVA member to continue reading this journals Login or join the BVA today.
LOGIN
JOIN US TODAY