MRI findings and surgical treatment of a carpal synovial cyst in a dog
21 Apr 2020
Tzounos, C., Taeymans, O., Quinn, R., Haimel, G.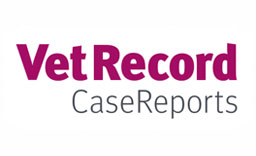 A male neutered pug aged 3 years and 3 months presented with a 4-month history of persistent left thoracic limb lameness, which was associated with a firm swelling on the palmerolateral aspect of the carpus. MRI confirmed a fluid-filled structure, which appeared to be associated with the joint space. The structure was surgically excised. Histopathology confirmed a true synovial cyst. Follow-up by telephone and email with the owner 18 months after surgery confirmed the patient was clinically well, with complete resolution of the lameness and no recurrence of swelling. This report discusses the MRI characteristics and successful treatment of a carpal synovial cyst causing lameness in the absence of osteoarthritis. There was long-term resolution of clinical signs with surgical excision of the cyst.
You need to be a BVA member to continue reading this journals Login or join the BVA today.
LOGIN
JOIN US TODAY