Revision of a canine Zürich cementless total hip replacement using a 'Cupless system
11 Jun 2020
Olsen, R. S., Lanz, O. I.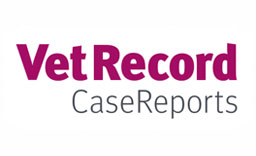 A 6-year-old spayed female pit bull mix developed lameness secondary to aseptic loosening of the acetabular component from a total hip replacement (THR) performed at 1 year of age with the standard Zürich cementless THR (Z-THR) system. It was treated by removing the acetabular component and replacing the standard femoral head prosthesis with the larger 'Cupless' femoral head. The acetabulum was reamed to accommodate it. The new prosthesis articulated directly with the reamed bone. One year later, the patient had no perceptible lameness and stable implants. Subsequent follow-up found appropriate ambulation and a high degree of owner satisfaction. The Zürich 'Cupless' hip replacement system aims to reduce some of the challenges associated with traditional THR. Though functional outcomes have not been scientifically compared with traditional THR, this case suggests it could be considered as an alternative to traditional THR procedures or for revision in cases with aseptic cup loosening.
You need to be a BVA member to continue reading this journals Login or join the BVA today.
LOGIN
JOIN US TODAY