Acquired cutaneous angiomatosis and Chorioptes species dermatitis in an adult llama
09 Sep 2020
Hicks, K., Newcomer, B. W., Sandey, M., Kennis, B., White, A.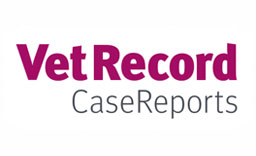 A five-year-old male llama was presented for nonpainful, nonpruritic dermatitis of the right pelvic and thoracic limbs, and right pelvic limb lameness of 2 weeks' duration. Cutaneous lesions were soft to firm, erythematous, raised and plaque-like with comedones and scale. Histopathology revealed orthokeratotic hyperkeratosis, suppurative and eosinophilic folliculitis and numerous densely packed vascular structures extending throughout the superficial and mid-dermis. Concurrent Chorioptes species mites were diagnosed via skin scrapings, and parasitic infestation resolved with topical sulphurated lime solution application. Angiomatosis lesions persisted on clinical and histopathological re-evaluation. PCR on formalin-fixed paraffin-embedded tissue was negative for multiple Bartonella species. This is the second report of cutaneous angiomatosis in a llama, but the first case suspected to be secondary to ectoparasite (Chorioptes species) infestation.
You need to be a BVA member to continue reading this journals Login or join the BVA today.
LOGIN
JOIN US TODAY