Case of multiple myeloma with cutaneous involvement and aberrant CD3 expression
26 Jul 2020
Schiavo, L., Di Palma, S., Verganti, S.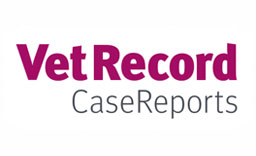 A six-year-old golden retriever presented for a fast-growing mass at the level of the left mandibular area. Cytological evaluation was consistent with an anaplastic round cell neoplasm. CT scan and abdominal ultrasound showed the presence of a large mass affecting the left mandibular salivary gland, several subcutaneous nodules and generalised intra-abdominal lymphadenomegaly. The mandibular mass was surgically removed, and histopathology and immunohistochemistry were compatible with plasma cell tumour with aberrant CD3 expression. Complete staging led to the diagnosis of multiple myeloma with skin and salivary gland involvement. After receiving one dose of vincristine, the dog was started on melphalan/prednisolone protocol. After initial improvement, the dog showed signs of progressive disease and was euthanased 35 days after starting treatment due to severe clinical deterioration. Postmortem examination showed infiltration by neoplastic cells in several organs including the heart, the conjunctiva and some abdominal organs.
You need to be a BVA member to continue reading this journals Login or join the BVA today.
LOGIN
JOIN US TODAY