Clinical, MRI and histopathological findings in a dog with distemper meningomyelitis
24 Aug 2020
Destri, A., Sanchez, L., Stewart, J., Dennis, R.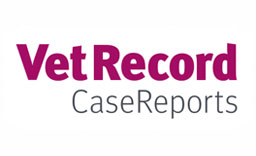 A 14-month-old female entire German Shepherd dog presented with a five-day history of acute onset, progressive, non-ambulatory paraparesis, with lateralisation to the right. The neurolocalisation was to the L4-S1 spinal cord segments. MRI of the thoracic, lumbar and sacral spinal cord revealed multifocal, ill-defined, T2-weighted hyperintense, intramedullary lesions, which were moderately contrast-enhancing, becoming more defined and ovoid to nodular after injection of gadolinium-containing contrast medium. The lesions affected both white and grey matter and were lateralised mainly to the right side. PCR tests on blood and cerebrospinal fluid were positive for canine distemper virus (CDV). Despite intensive treatment, the dog developed myoclonus and severe fever and was humanely euthanased. Postmortem examination confirmed the presence of spinal cord lesions consistent with CDV. Distemper rarely presents with clinical signs of myelopathy exclusively and there is a scarcity of description of MRI findings of distemper meningomyelitis in the literature.
You need to be a BVA member to continue reading this journals Login or join the BVA today.
LOGIN
JOIN US TODAY