Computed tomography and magnetic resonance imaging findings in a dog with apocrine gland anal sac adenocarcinoma with vertebral canal metastasis
01 Sep 2020
Kenny, D., Lantzaki, V., Ayl, R., Barker, D.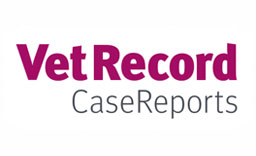 A 10-year-old male neutered cocker spaniel was presented for further investigation of an enlarged sublumbar lymph node, which was cytologically consistent with epithelial cell malignancy. CT revealed marked left medial and internal iliac and mild lumbo-aortic lymphadenomegaly. Surgical extirpation of the lymph nodes was performed, and histopathology was consistent with poorly differentiated carcinoma. Despite the absence of a discernible primary lesion, metastatic apocrine gland anal sac adenocarcinoma (AGASAC) was suspected and chemotherapy was started. Six days after starting chemotherapy, the patient developed acute-onset paraparesis and trembling. MRI revealed a left-sided extradural mass at the level of T11–T13. CT imaging revealed mild enlargement of multiple left sided lumbo-aortic lymph nodes. The dog was euthanised 3 days later due to neurological deterioration. Postmortem examination confirmed a diagnosis of left AGASAC with local lymph node and T11–T13 vertebral canal metastasis.
You need to be a BVA member to continue reading this journals Login or join the BVA today.
LOGIN
JOIN US TODAY