CT diagnosis and management of mesenteric torsion in a dog
28 Jul 2020
Carbonell Rossello, G., Guillem Gallach, R., Jimenez Pelaez, M.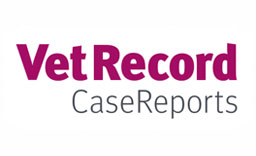 An eight-year-old, 35 kg, female spayed Doberman Pincher dog was presented with peracute abdominal distention and severe abdominal pain associated with vomiting. Radiographs showed segmental gas and fluid-distended small intestines and loss of serosal detail. Abdominal ultrasound revealed segmental hypomotile, fluid distended small intestines and high amount of gas in the intestinal lumen. CT showed signs consistent with a segmental mesenteric torsion. Exploratory laparotomy and en bloc enterectomy of the torsioned necrotic segment of the jejunum (50 per cent approximately) was performed. The patient was discharged 1 week after surgery with some sporadic vomiting and diarrhoea, which resolved with medical treatment within a week.
You need to be a BVA member to continue reading this journals Login or join the BVA today.
LOGIN
JOIN US TODAY