Disseminated phaeohyphomycosis in a dog with seizures and suspected hyperadrenocorticism in the United Kingdom
06 Jul 2020
Alonzi, C., Ellis, J., Corbetta, D., Grau-Roma, L., Valls, F.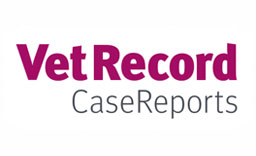 A twelve-year-old female entire Lurcher-cross dog presented for investigation of an acute onset of cluster seizures and elevation of the liver enzymes. Physical examination was unremarkable; neurological examination was suggestive of diffuse forebrain involvement. Abdominal ultrasound documented a hyperechoic hepatic parenchyma, bilateral adrenomegaly and a splenic irregular hypoechoic nodule. Splenic cytology revealed inflammation and numerous fungal elements. Low dose dexamethasone suppression test suggested the diagnosis of hyperadrenocorticism. Magnetic resonance (MRI) of the brain revealed multifocal cerebral lesions. Anti-fungal therapy was started, but no clinical response was seen and euthanasia was elected. Postmortem examination confirmed the diagnosis of systemic mycosis with involvement of the brain and liver. Systemic mycoses are uncommonly reported in the UK, but this case report raises the importance of considering fungal encephalitis as a differential diagnosis in dogs with seizures and in particular in dogs with hyperadrenocorticism, as this endocrinopathy may act as a predisposing factor.
You need to be a BVA member to continue reading this journals Login or join the BVA today.
LOGIN
JOIN US TODAY