Endometrial mineralisation in a bitch with ovarian granulosa cell tumour and cystic endometrial hyperplasia-pyometra complex
02 Jul 2020
Rodenas, C., Agut, A., Bernabe, A., Gomez, M. A., Lucas, X.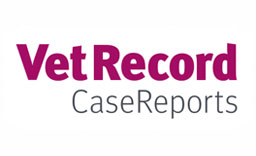 Granulosa cell tumour is a common ovarian pathology in bitches. Depending on its hormonal production, this tumour often induces persistent oestrus signs and uterine disorders. Chronic treatment with progesterone contraceptives has been associated with endometrial mineralisation in bitches. The authors describe the case of a three-year-old female entire mastiff dog with a one-year history of chronic hyperoestrogenism signs and anorexia. Serum biochemistry and haematology revealed moderate leucocytosis. Abdominal ultrasound showed dilated uterine horns with anechoic fluid in the lumen, small cystic structures, and multiple stippled hyperechoic lesions with mild acoustic shadowing and comet tail artefact along the endometrial wall. Furthermore, cystic structures were observed in the right ovary. After surgery, histopathological study revealed the presence of endometrial hyperplasia-pyometra complex, endometrial mineralisation and a granulosa cell tumour. To the best of the authors' knowledge, this is the first report of endometrial mineralisation associated with ovarian granulosa cell tumour in a bitch.
You need to be a BVA member to continue reading this journals Login or join the BVA today.
LOGIN
JOIN US TODAY