Intrahepatic icterus in pigs: rare clinical sign in porcine circovirus type 2 systemic disease
30 Aug 2020
Graage, R., Saura Martinez, H., Klausmann, S., Kubacki, J., Kümmerlen, D.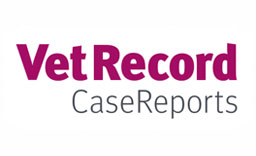 Icterus is a yellow discolouration of tissue and blood plasma due to a disorder of the bilirubin metabolism. This case report describes two porcine circovirus type 2 (PCV2) outbreaks in a fattening farm (F1) and a breeding farm (F2). At F1, pigs had intradermal bleedings and wasting, and three pigs showed icterus. At F2, suckling and weaning pigs (WPs) had an icterus and were wasted. Three fattening pigs (F1), one suckling piglet and one WP (F2) were dissected. Additional investigations included histology, PCV2 immunohistochemistry (IHC), fluorescence in situ hybridisation (FISH) of tissue samples, PCR including sequencing of the PCV2 strains and next-generation sequencing (NGS) of liver samples. Three of the five dissected pigs showed a lymphohistiocytic, periportal hepatitis with disruption of the hepatic cord architecture. PCV2 was detected by IHC, FISH, PCR and NGS in several organs of the pigs. In both farms, sequencing revealed a PCV2b genotype.
You need to be a BVA member to continue reading this journals Login or join the BVA today.
LOGIN
JOIN US TODAY