Laryngeal chondritis in two Dorper sheep
23 Jul 2020
Camara, A. C. L., Borges, J. R. J., Campebell, R. d. C., Castro, M. B. d., Soto-Blanco, B.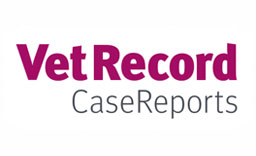 Laryngeal chondritis is an acute obstructive upper respiratory condition characterised by severe dyspnoea and laryngeal stridor, considered an uncommon disease in sheep. In this study, we describe detailed clinical evolution, imaging and pathological findings of the first cases of laryngeal chondritis in Dorper sheep. Two Dorper sheep from different flocks were referred to clinical care with respiratory distress and fatigue. Due to dyspnoea, both sheep were submitted to emergency tracheotomy. Both sheep did not show recovery after treatment with antimicrobials and anti-inflammatories and died. Main gross findings observed in sheep 1 were purulent foci affecting cricoid cartilage and surrounding tissues. Sheep 2 presented with marked swelling of the laryngeal mucosa, reduced airway lumen and a pus-draining fistula in the arytenoid cartilage. Histologically, both cases revealed necrosis of the laryngeal cartilage, suppurative inflammation and abscedation within myriads of intralesional bacteria.
You need to be a BVA member to continue reading this journals Login or join the BVA today.
LOGIN
JOIN US TODAY