Removal of a retrobulbar wooden foreign body trapped in the orbital fissure by lateral orbitotomy and mandibular coronoidectomy in a French bulldog
16 Aug 2020
Saban, C., Gory, G., Cabon, Q.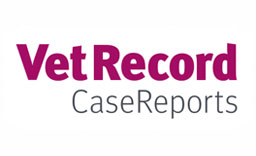 A four-year-old dog is presented with severe ocular pain, right eye swelling and slight exophthalmos, three days after partial removal of a wooden foreign body stuck under the right eye through the canthus medialis. A CT scan showed the presence of the foreign body in the retrobulbar space, trapped into the orbital fissure medially to the right branch of the mandible. Removal of the foreign body was performed by lateral orbitotomy associated with coronoidectomy of the vertical branch of the right hemimandible. The optical nerve was entirely torn by the foreign body. After postoperative recovery, the clinical outcome was good apart from unilateral blindness. The dog lives a normal life according to the owners' evaluation. This case is the first description of the surgical treatment by the combination of lateral orbitotomy and mandibular coronoidectomy of an identified retrobulbar foreign body, medial to the mandible, stuck into the orbital fissure.
You need to be a BVA member to continue reading this journals Login or join the BVA today.
LOGIN
JOIN US TODAY