Suspected thyroid storm in a cat anaesthetised for bilateral thyroidectomy
15 Sep 2020
Potter, J. J., Cook, J., Meakin, L. B.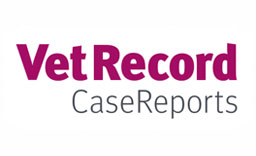 A 14-year-old female neutered domestic short hair cat was referred for assessment of uncontrolled hyperthyroidism. The owners were advised that a bilateral thyroidectomy was required due to the presence of comorbidities that rendered radioiodine therapy inappropriate. During the procedure the cat exhibited unexpected extreme tachycardia, hypertension, hypercapnia, severe respiratory and metabolic acidosis and ventricular arrhythmias, which all resolved after removal of the thyroid glands. Recovery was complicated by the development of congestive heart failure and hypertension which were successfully managed and the cat was discharged five weeks after presentation. Thyroid storm was considered a possible explanation for the events that occurred during anaesthesia as well as the subsequent congestive heart failure and hypertension. Thyroid storm during anaesthesia has not been reported in animals. The similarities between the reported case and thyroid storm events in humans are discussed.
You need to be a BVA member to continue reading this journals Login or join the BVA today.
LOGIN
JOIN US TODAY