Traumatic orbital ligament avulsion diagnosed with cross-sectional imaging in three dogs
11 Aug 2020
Hanot, E. M., Williams, D. L., Caine, A.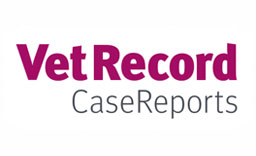 The aim of the study was to describe the clinical and imaging findings of three dogs diagnosed with orbital ligament avulsion. Three immature dogs presented following a facial bite trauma, including multiple skull fractures and ventral, ventrolateral or rostrolateral displacement of the affected eye. The extent of lesions and orbital ligament avulsion were assessed and diagnosed using CT (n=2) or MRI (n=1). Orbital ligament avulsion was identified as an interruption of the linear structure between the zygomatic process of the frontal bone and the frontal process of the zygomatic bone. One dog was treated surgically to correct a visual axis alteration, while the remaining two dogs were managed conservatively. Orbital ligament avulsion is an uncommon condition that should be considered following a facial trauma. Concurrent lesions might necessitate surgical intervention, but it remains unclear if the avulsion of the orbital ligament itself requires a specific treatment.
You need to be a BVA member to continue reading this journals Login or join the BVA today.
LOGIN
JOIN US TODAY