Vernets syndrome (jugular foramen syndrome) secondary to osteoma of the tympanic bulla in a young male dog
24 Aug 2020
Ruaux, C., Champion, C. P., Pemberton, S., Munday, J. S.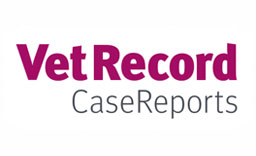 A one-year-old male neuter dog initially presented with clinical signs of pharyngitis and suspected oesophageal reflux. The dog subsequently developed unilateral (left side) Horner's syndrome. CT examination of the head and neck revealed a large mixed bone and soft tissue density lesion filling the majority of the left tympanic bulla and extending into the jugular foramen. Marked atrophy of the left sternocephalicus and brachiocephalicus muscles was present. Following recovery from anaesthesia, the dog suffered regurgitation and aspiration, resulting in respiratory and cardiac arrest. Given the imaging findings and grave prognosis, the dog's owners elected euthanasia. Autopsy examination revealed a tympanic bulla osteoma. The combination of cranial nerve IX, X and XI dysfunction, associated with disease of the jugular foramen, supports a diagnosis of Vernet's syndrome in this patient.
You need to be a BVA member to continue reading this journals Login or join the BVA today.
LOGIN
JOIN US TODAY