Adenocarcinoma as a novel complication following incisional colopexy in a dog
15 Oct 2020
Taylor, O., Knight, R., Owen, L.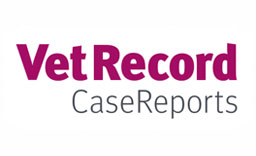 This report describes the development of an adenocarcinoma at a pexy site in an eight-year-old, male neutered Old English sheepdog 12 months post colopexy. Laparoscopic-assisted incisional colopexy was performed as an adjunctive surgical treatment alongside unilateral perineal herniorrhaphy for management of a right-sided perineal hernia. The adenocarcinoma initially developed as a subcutaneous mass at the colopexy site, with the colon and transversus abdominis muscle appearing macroscopically normal. Surgical resection of the mass was incomplete based on histopathological examination. Recurrence of the tumour was noted within the rectum and caudal colon 12 months postoperatively, although not at the flank site, and due to the severity of the associated clinical signs the decision was made to euthanase the dog. It is recommended that neoplastic transformation at organ pexy sites should be considered as a rare but possible complication which can carry a grave prognosis.
You need to be a BVA member to continue reading this journals Login or join the BVA today.
LOGIN
JOIN US TODAY