Bilateral ocular metastatic melanoma of unknown primary (MUP) in a dog
02 Nov 2020
Swain, C. E., Pittaway, R., Ilchyshyn, N. P., Blacklock, B., Stavinohova, R.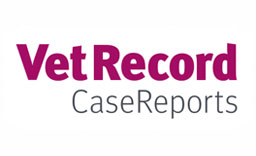 An 11-year-old Labrador retriever was evaluated for bilateral ocular discomfort and visual deficits. Ophthalmic examination revealed bilateral uveitis with secondary glaucoma; the right eye was blind. Further investigations revealed bilateral retinal detachment, a diffuse interstitial lung pattern and bilateral focal adrenomegaly. Aqueocentesis of the left eye diagnosed a melanocytic malignancy, whereas only inflammation was detected in the right eye. A staged bilateral enucleation was performed and histopathology revealed metastatic melanoma in both eyes. Complete staging diagnosed an unrelated pulmonary neoplasm but failed to detect a primary site of the melanoma. The patient was euthanased 17 weeks post diagnosis due to development of neurological signs. Postmortem examination confirmed disseminated melanoma but failed to reveal a primary site. This unusual case highlights the diagnostic utility of bilateral aqueocentesis in canine uveitis investigation and the critical role of histopathological evaluation of enucleated globes to discriminate between primary and metastatic neoplasia in the eye.
You need to be a BVA member to continue reading this journals Login or join the BVA today.
LOGIN
JOIN US TODAY