Bilateral proximal tibial epiphysiodesis and juvenile pubic symphysiodesis in a 22-week-old golden retriever
02 Nov 2020
Rohwedder, T., Buchheim, S., Böttcher, P.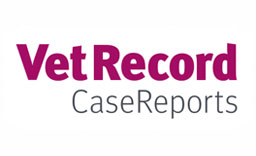 A 22-week-old male golden retriever with acute bilateral hind limb lameness was diagnosed with bilateral complete cranial cruciate ligament rupture and hip joint laxity. Laxity index was 0.72 on the left and 0.68 on the right hip joint preoperatively. The dog was treated with simultaneous bilateral proximal tibial epiphysiodesis and juvenile pubic symphysiodesis and followed up for one year after surgery. Lameness resolved completely, and the dog showed a very good long-term outcome. Laxity index, measured four months after initial surgery, was corrected to 0.42 on the left side and 0.45 on the right side. The tibial plateau angle was corrected to 0 degree in the left and 4 degree in the right tibia, resulting in stable and pain-free stifle joints. No complications were observed due to the surgical procedures.
You need to be a BVA member to continue reading this journals Login or join the BVA today.
LOGIN
JOIN US TODAY