Canine acute eosinophilic dermatitis with oedema (Wells-like syndrome) associated with T-cell multicentric lymphoma
21 Oct 2020
Alves, P., Foale, R., Cerundolo, R., Valls Sanchez, F.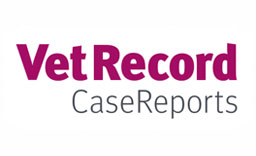 A nine-year-old female neutered Boxer in clinical remission from T-cell multicentric lymphoma was presented for further investigation of multiple, non-painful, non-pruritic, oedematous, erythematous, serpiginous plaques. On examination, a very mild right superficial cervical lymphadenomegaly was also detected. Initial glucocorticoid treatment for a suspected hypersensitivity reaction was unsuccessful and the patient presented a week later with worsening of the dermatological signs. Cytology of peripheral lymph nodes was consistent with lymphoma relapse. Histopathology of skin biopsies was compatible with canine acute eosinophilic dermatitis with oedema, also known as Wells-like syndrome. Complete clinical resolution of the skin lesions and the peripheral lymphadenomegaly was achieved with six weeks of lomustine chemotherapy. To the authors' knowledge, this is the first description of canine acute eosinophilic dermatitis with oedema suspected to be triggered by a multicentric lymphoma in a dog.
You need to be a BVA member to continue reading this journals Login or join the BVA today.
LOGIN
JOIN US TODAY