Fungal osteomyelitis caused by Candida glabrata in a Groenendael dog
25 Nov 2020
Levy, A., Harran, N., Hammer, M., Bennaim, M.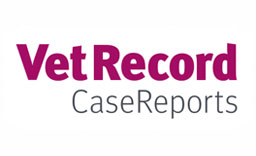 A four-year-old male intact Groenendael was presented for intermittent shifting lameness affecting all four limbs, lethargy, reduced appetite and weight loss of two to four weeks' duration. Thoracic radiography revealed enlarged cranial mediastinal lymph nodes. Osteolytic lesions were identified on the spinous process of T13 and L1. Limb radiographs revealed multiple rounded, osteolytic lesions with sclerotic peripheral rim in the medullar cavity of radii, ulnas and tibias bilaterally. Fine-needle aspiration cytology of the mediastinal lymph nodes and osteolytic lesions affecting the spinous processes and histopathology of a right tibial osteolytic lesion were consistent with fungal osteomyelitis. Fungal culture performed on a right tibial biopsy grew Candida glabrata susceptible to itraconazole. Marked clinical improvement was observed following six months of itraconazole therapy. Repeated radiography revealed resolution of the bony lesions and persistence of mild cranial mediastinal lymphadenomegaly.
You need to be a BVA member to continue reading this journals Login or join the BVA today.
LOGIN
JOIN US TODAY