Hypercalcemia of malignancy associated with exocrine pancreatic adenocarcinoma in a dog
13 Oct 2020
Johannes, C. M., Heinrich, E. R. E., Musser, M. L., Andreasen, C. B.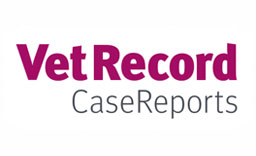 A 10.5-year-old, male, neutered Samoyed was presented to the Iowa State University Lloyd Veterinary Medical Center with history (including prior surgical biopsy), non-specific acute clinical signs and clinicopathology changes most consistent with pancreatitis. Marked hypercalcemia developed within a short span of time, raising clinical concerns for neoplasia. Diagnostic imaging and fine-needle aspirate cytology were consistent with pancreatitis. Marked elevation in parathyroid hormone–related protein with low parathyroid hormone further supported the diagnosis of underlying neoplasia. The dog's clinical status declined despite aggressive medical supportive therapy. Humane euthanasia was elected. Postmortem examination revealed an extensive pancreatic neoplasm confirmed as exocrine pancreatic adenocarcinoma with diffuse intra-abdominal metastases. Acute kidney injury most likely resulted from the severe pancreatic inflammation (pancreatitis) and hypercalcemia of malignancy caused by the exocrine pancreatic adenocarcinoma. This is the first reported case of hypercalcemia of malignancy associated with exocrine pancreatic adenocarcinoma in a dog.
You need to be a BVA member to continue reading this journals Login or join the BVA today.
LOGIN
JOIN US TODAY