Incomplete pentalogy of Cantrell in a Border terrier puppy
29 Oct 2020
Williams, P., Booth, M., Rossanese, M.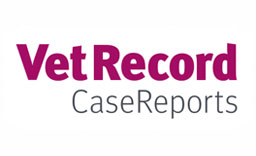 A 4-month-old, 6.4-kg, male entire, Border terrier was referred for investigation of exercise intolerance and a suspected congenital midline defect. Physical examination revealed a sternal and a supraumbilical abdominal defect. Thoracic radiography and CT confirmed a congenital sternal cleft, a large supraumbilical diastasis rectus and a pleuroperitoneal diaphragmatic hernia. No congenital cardiac defect was detected during echocardiographic examination. These findings were consistent with an incomplete Cantrell's pentalogy. Surgical reconstruction involved diaphragmatic reconstruction, abdominal muscle herniorrhaphy and novel closure of a sternal cleft with crimped monofilament nylon leader line. The dog had grown since surgery to a mature adult size and did not exhibit exercise intolerance 18 months postoperatively. Cantrell's pentalogy is a collection of congenital midline defects that are rare in the dog and cat but can be successfully treated surgically, especially if diagnosed at a young age and if not involving intracardiac defects.
You need to be a BVA member to continue reading this journals Login or join the BVA today.
LOGIN
JOIN US TODAY