Longus capitis and rectus capitis ventralis minor rupture in a horse following general anaesthesia for a laryngeal tie-forward procedure
21 Oct 2020
Thomas, I., Dixon, J. J., Fraser, B.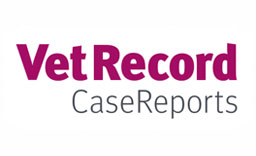 The authors present a case of a racehorse with acute respiratory distress, bilateral epistaxis and laryngeal swelling following a laryngeal tie-forward procedure. An emergency tracheostomy was performed following brief endoscopic examination identifying significant pharyngeal collapse and a minimally patent airway. No cranial nerve deficits or obvious neurological abnormalities were present. Lateral radiographs ruled out a fracture and provided a preliminary diagnosis of hyperextension injury. CT 24 hours later showed marked soft tissue swelling consistent with haemorrhage associated with the ventral straight muscles, causing median septum disruption. No fractures were identified. Endoscopy four days postoperatively confirmed the haemorrhage was external to the guttural pouches consistent with ventral straight muscle rupture. The horse was treated conservatively with five weeks of box rest. The tracheostomy tube was removed 19 days postoperatively. The horse was then discharged and gradually returned to exercise, winning a race nine months later.
You need to be a BVA member to continue reading this journals Login or join the BVA today.
LOGIN
JOIN US TODAY