Pituitary macroadenoma leading to hypogonadism in a dog
12 Nov 2020
Tornqvist-Johnsen, C., Woods, G. A., Tan, Y. L., Schwarz, T., Blackwood, L., Mellanby, R. J., Salavati, S.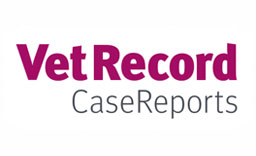 A six-year-old male entire dachshund presented for investigation of decreased testicular size noted over the last six months and progressive lethargy for two months. Apart from small symmetrical testicles and a small prostate gland, physical examination revealed no abnormalities. Neurological examination was repeatably normal. Extensive diagnostic investigations for extracranial disease with a focus on reproductive and metabolic-endocrine disorders revealed no abnormalities. Decreased testosterone (0.2 nmol/l) with inappropriately low luteinising hormone (<0.7 iu/l) and follicle stimulating hormone (2.1 ng/ml) in comparison with six other male entire dogs was detected. Based on the exclusion of all other conditions, intracranial disease was suspected. MRI of the head revealed a 2 x 1.8 x 1.5 cm mass arising from the pituitary fossa. Radiotherapy (12 fractions of 4 Gy, three days per week for four weeks, three-dimensional conformal plan, 6 MV) and pain relief resulted in resolution of lethargy. Twelve months after initial diagnosis, the dog was asymptomatic, while the testicles remained small.
You need to be a BVA member to continue reading this journals Login or join the BVA today.
LOGIN
JOIN US TODAY