New five-point plan to help vets practise responsible use of parasiticides for dogs and cats
The British Veterinary Association (BVA), British Small Animal Veterinary Association (BSAVA) and British Veterinary Zoological Society (BVZS) leading veterinary associations have launched a brand-new resource to help veterinary professionals practise responsible, risk-based use of parasiticide products for dogs and cats.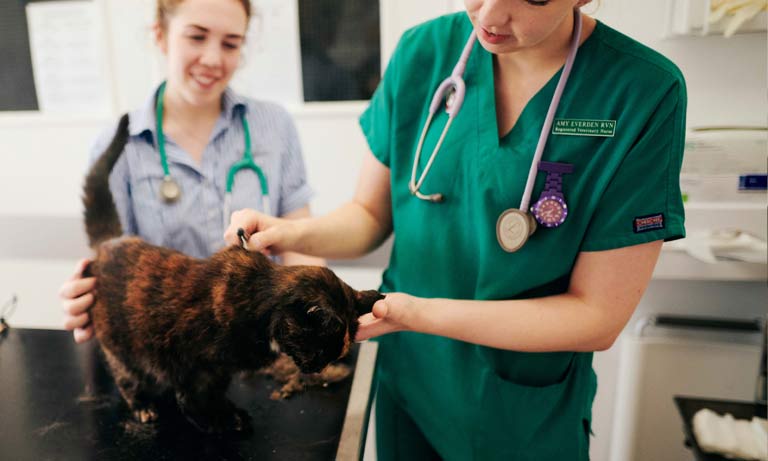 With research showing almost all (98%) companion animal vets are concerned about the impact of parasiticide treatments on the environment, the British Veterinary Association (BVA), British Small Animal Veterinary Association (BSAVA) and British Veterinary Zoological Society (BVZS) have joined together to create a new five-point plan to support veterinary teams in reducing their impact.  
The new resource is a poster entitled 'Responsible use of parasiticides for cats and dogs: The five-point plan', which can be displayed at veterinary surgeries. It offers tips for each of the five points on how to adapt the use of parasiticides in practice.
The five points are:
Work with clients to prevent and check for parasites
Understand the potential risks to animals, humans, and the environment
Take a risk-based approach to prescribing
Ensure appropriate use
Record and monitor use
The five point plan is the first resource BVA, BSAVA and BVZS have issued since they launched their joint position on the 'Responsible use of parasiticides for cats and dogs'. This position, which aims to address concerns such as the impact such medicines are having on the environment, recommended that vets should always take a proportionate, targeted and responsible approach to the use of small animal parasiticides and carefully weigh up all risks before prescribing or recommending treatment.
British Veterinary Association President Justine Shotton said: "Parasiticides can be highly effective in treating everyday pet ailments, but they can have a significant negative impact on the environment and therefore should be used with careful consideration.
"By reassessing how parasiticides are used in practice, taking a risk-based approach and fine-tuning use to the needs of each client rather than taking a blanket approach, vets have a real opportunity to contribute towards ensuring we support natural biodiversity and a healthy planet for us and our pets into the future. This new resource aims to support vet teams on this journey and help educate their clients."
The British Small Animal Veterinary Association President Alison Speakman said: "BSAVA welcomes this policy to encourage small animal practitioners to work with their clients to make risk-and evidence-based decisions on appropriate parasiticide prescribing for pets. We also encourage ongoing scientific research to identify knowledge gaps."
"Adopting a "one health" approach balances benefits and risks to animals, humans and the environment. This, alongside education regarding concurrent hygiene measures and appropriate product handling and disposal, aims to reduce as far as possible any negative impact that may result from inappropriate parasiticide use."
The British Veterinary Zoological Society Senior Vice President Liz Mullineaux said: "Although this five-point plan deals with dogs and cats, it is very relevant to our BVZS members who have concerns regarding environmental contamination with parasiticides and the impact that can have on our wildlife.
"Of course, at the same time we have to balance these environmental concerns alongside risks to human and domestic animal health. The five-point plan both helps raise awareness of the issues and assists vets and their clients to make responsible decisions that should help benefit all. This is really 'One Health' in action."
BVA, BSAVA and BVZS are encouraging veterinary professionals to download and display the poster in their practices, to read the position on responsible use and to reflect on the recommendations during their work.
To download the poster, visit www.bva.co.uk/parasiticides.
Contact our media office
(for press enquiries only)
Want to join BVA?
Get tailored news in your inbox and online, plus access to our journals, resources and support services, join the BVA.
Join Us Today