Vets capture the joy of animals and realities of working during lockdown, for photography award
The striking image of a multi-tasking veterinary surgeon working through the pandemic, writing referral reports whilst breastfeeding her baby at home, is one of three winning pictures that wowed judges in this year's BVA Veterinary Photographer of the Year competition.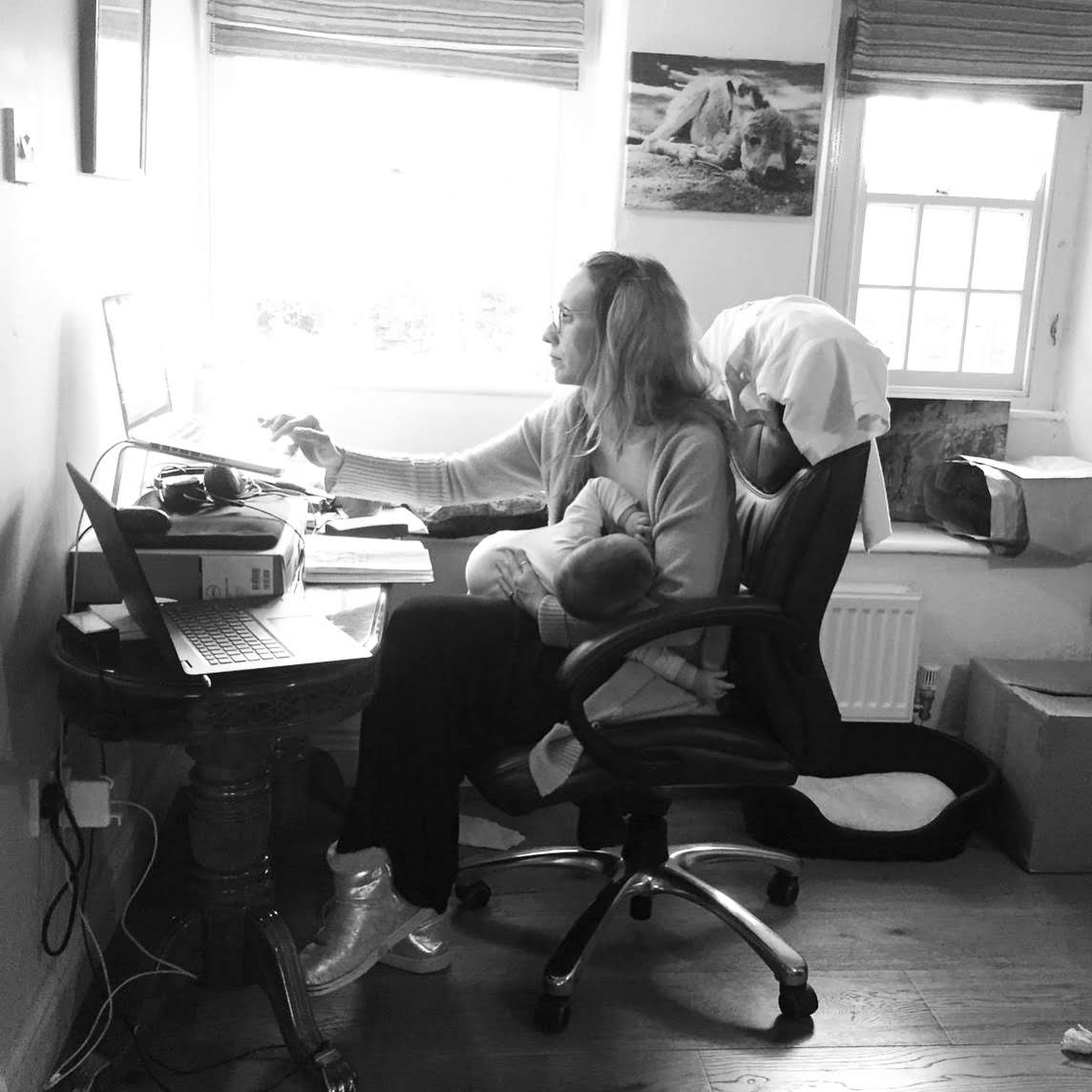 Nine budding photographers were chosen in three categories from 605 entries for the competition, which is sponsored by iM3 Dental.
Specialist equine vet Adele Williams won first place in the 'A vet's life in lockdown' category with her photograph illustrating some of the challenges for those working throughout the Covid-19 pandemic. Entitled 'A new working normal: multitasking to new levels', the image shows Cornwall-based vet Adele nursing her baby whilst working on online referral reports, with another laptop balanced on a nearby desk.
Adele said: "Initially during lockdown, our baby daughter and 4-year-old son were at home, and as the breadwinner I had to carry on working. I was very lucky that I was able to work remotely, working for two amazing companies that have always supported remote working.
"It was a challenging time juggling being a mummy whilst trying to work at the same time. This photo captures a moment when our baby girl, who was still breastfeeding, needed a feed and I had to get on with work. The sunlight flooding through the window softens the moment; breastfeeding can be a hard but immensely rewarding journey.
"The image I think shows some of the changes of the time of lockdown: my makeshift and rather messy desk for doing telemedicine, the baby needing me, feeding whilst I'm getting on with work, the comfort of wearing slippers whilst working (every cloud has a silver lining)."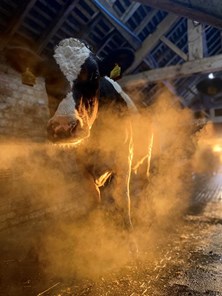 As in previous years, the popular 'All creatures great and small' category attracted a very high calibre of entries. This year, Staffordshire-based, first year vet student, and relief milker, Ellie Dudson took top spot with her atmospheric photograph of a cow standing proud on a sunny afternoon in a parlour, entitled 'In the spotlight'.
Ellie said: "I was delighted when I found out I had won. I took the photo in the middle of afternoon milking on a cold frosty day in January. In the winter, the sun sets perfectly just at the entrance to the parlour and on a clear day it creates an amber glow against the steam created from the warmth of the cows. It was just perfect timing, I got my phone out and snapped the shot."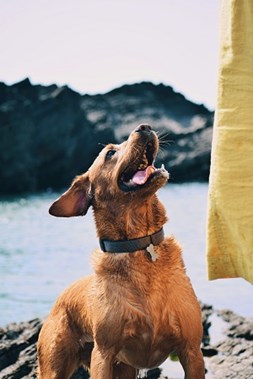 The third and final category named 'Happy pets that make us smile' was topped by vet student Harriet Williams with her image entitled, 'In Expectant Anticipation of a Tennis Ball'. The judging panel selected the photograph - showing an energetic fox red Labrador on the beach, looking upwards in excitement - as their overall winner.
On her entry, Harriet, a fourth-year student at the University of Surrey, said:
"I really love this photo. I was on holiday in Croyde in Devon in summer 2019. My cousins were all coasteering within this little cove, and I was charged with taking photos of them all in action due to an injury at the time. Naturally, animals are my preferred subject so once this energetic fox red lab bounced down the cliff path for a swim I was easily distracted!
"Winning this competition was definitely unexpected, but it has given me a huge confidence boost and a new appreciation for this creative outlet that has brought me a lot of joy in the last few years."
The judges also chose two highly commended photographic entries for each category. These were:
A vet's life in lockdown
'Lockdown Day III' by Nat Scroggie
'Lockdown loyalty' by Tina Nurse
All creatures great and small
'Kjötbollur' by Sofia Croppi
'Showing his best side' by Clare Hogston
Happy pets that make us smile
'Snow angel' by Katherine Siddons
'Got your back!' by Pedro Costa
The competition was judged by a panel made up of veterinary experts, as well as guest judge and professional wildlife photographer Aaron Gekoski. Aaron offered his congratulations to all of the winners and said:
"The competition received a wide array of entries, including some strong shots highlighting life as a veterinarian during Covid-19. Judging was no easy task and involved plenty of healthy debate as we decided upon the worthy winners. Thanks to all my fellow judges - it was a pleasure to be part of the process. But most of all, thank you to all those who continue helping animals in the face of adversity."
BVA President and fellow judge James Russell added:
"It was a great experience being part of the judging panel, and I felt the mix of photographic and veterinary expertise helped us to come to our final decisions, which was very difficult given the range of high-quality images that we received.
"Many of the entries for this year's award really conveyed the joy that can be found in time spent with animals and in nature, as well as providing a window into what it has been like working as a vet throughout this difficult time."
The winning images, as well as those that were highly commended will be displayed in the BVA members area at The London Vet Show 2021, and are available to view here.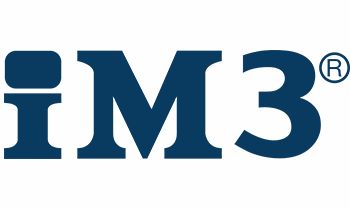 Contact our media office
(for press enquiries only)
Want to join BVA?
Get tailored news in your inbox and online, plus access to our journals, resources and support services, join the BVA.
Join Us Today