A young vet's impactful project in Malawi
Young Vet of the Year 2023 finalist Rebecca Hampson shares her life-changing experience of working with communities in Malawi to help create long-term sustainable improvement for the welfare of animals and the people who care for them.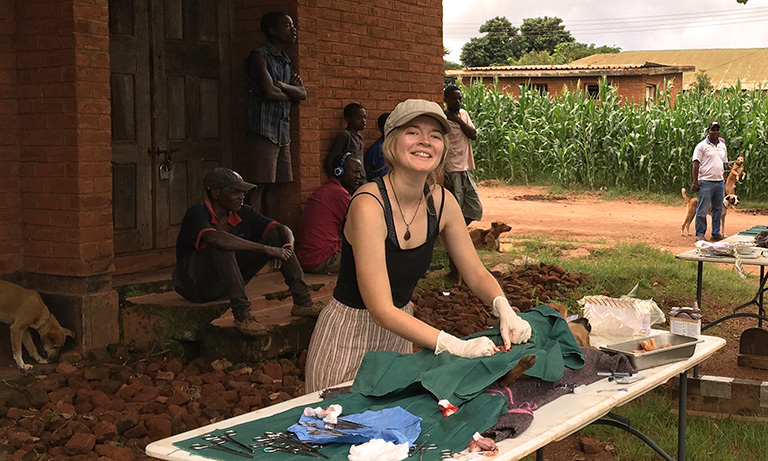 When I first visited Malawi, I could never have imagined the impact it would have on me and how it would change my life. My work in Malawi has affected me as a vet and animal welfare advocate, but more importantly, it has changed me on a deeply human level.
Helping animals in Thailand
My interest in animal welfare and international development grew during a volunteer trip to Thailand with Phagnan Animal Care for Strays, a charity providing free veterinary care to street animals. Our days were filled with spays, wound management and caring for numerous animals resident on-site, including a not-so-small, pot-bellied pig rescued from the side of the road named 'Piggy Smalls'.
The experience was so much fun, I loved using my veterinary degree to improve the lives of animals and help low-income communities on the island. I knew this was an area I wanted to pursue further. I applied for a distance-learning MSc with the University of Edinburgh in International Animal Welfare, Ethics and Law. I really enjoyed studying for my MSc and my first trip to Malawi inspired my dissertation, which researched the link between gender inequality and animal welfare.
Teaching vets in Malawi
In January 2020, I volunteered with the Lilongwe Society for the Protection and Care of Animals (LSPCA) in Malawi, the warm heart of Africa and the country that now has a piece of my heart forever.
During our first trip, we taught vet students at the first and only vet school in Malawi, the Lilongwe University of Agriculture and Natural Resources (LUANAR), where only three cohorts of students have graduated to date. This was an incredible experience. Using my degree to help generate sustainable change in animal welfare by supporting vet students felt so meaningful.
We also developed CPD days for para-vets who carry out most of the veterinary work in Malawi. However, there is little support for them once they graduate. The enthusiasm of the para-vets was so inspiring, and I knew we were making a true difference to the village animals, farmers and para-vets themselves. Some of the students and staff at LSPCA have become friends for life. Most importantly though, I discovered that no matter where you are in the world, everyone loves a boogie to Sean Paul.
Creating long-term change
Following this trip, Veterinary Education Malawi (VEM) was founded to continue to support the vet school and para-vets long-term. In 2021 I secured our first grant from The Marchig Trust to develop and implement a clinical skills lab at LUANAR. I am delighted to be able to leave a permanent teaching resource at the university. I have also created an equine medicine and surgery teaching block for third- and fourth-year vet students at LUANAR. Prior to this and despite the large donkey population, there was no equine teaching at the university.
We have also started a vet student bursary and are supporting a Malawian student who otherwise could not afford to attend university. I feel so passionate about supporting Malawian vet students to generate sustainable change in animal welfare.
Plans for the future
I am immensely grateful to have found something so meaningful. The friendships and connections I have made in Malawi are special and unique and give me perspective and grounding in my life. For the future, I hope to develop and implement training courses for para-vets and to continue to support the vet school. Improving both animal welfare sustainably and the wellbeing of low-income communities through education is the main aim for VEM.
VEM is primarily an animal welfare charity however, living it, you realise it encompasses so much more than that. It's about community, human connection, and hope for the future.
Contact our media office
(for press enquiries only)
Want to join BVA?
Get tailored news in your inbox and online, plus access to our journals, resources and support services, join the BVA.
Join Us Today